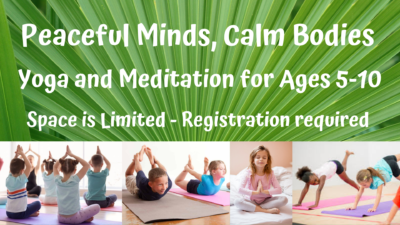 Yoga and Meditation Techniques for Ages 5-10
Learn simple yoga and meditation practices for kids.
Guest instructor Sara Bowman will teach some simple yoga postures and  ways of breathing, play with easy meditation techniques geared to young minds, and finish with relaxation.
One parent per child is welcome to join the class and learn alongside your child. Many of these practices are easy to continue at home. (Parental participation is not required.)
Space is limited, so we are offering four identical sessions to make sure everyone can participate. This is not a 4-week course.
Please note the age range for participation. Babies in a wrap or body carrier count as one with mom.
Registration is required. Please call the library at 570-784-0883 for more information or to register.
Please bring mats if you have them or let us know you need them at sign up.
Sara Bowman has been teaching yoga and meditation to all ages since 2004. Now that she has two daughters, Sara enjoys finding ways to incorporate small moments of calm and awareness into their days and wants to share that with other families. Sara is currently finishing her certification in Yoga Therapy and loves to swim, paint and play when she's not teaching.