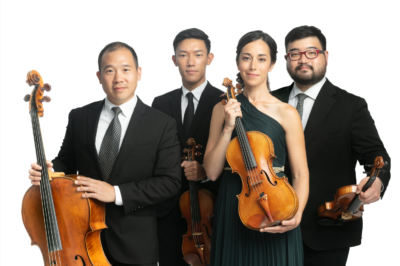 Inspiring performances, luminous sound, and exceptional musicianship are the hallmarks of the Grammy Award-winning Parker Quartet. Renowned for its dynamic interpretations and polished, expansive colors, the group has rapidly distinguished itself as one of the preeminent ensembles of its generation, dedicated purely to the sound and depth of their music. The Quartet has appeared at the world's most important venues since its founding in 2002.
The Parker Quartet is now in its eighth year as the Blodgett Artists-in-Residence at Harvard University, serving as faculty members in the Department of Music. Recent seasons included performances and residencie saround the United States and Europe, including at the 92nd Street NY, Lincoln Center, the University of Chicago, Wigmore Hall, the University of South Carolina, the Schubert Club, and Skidmore College.
The Quartet has been influential in projects ranging from the premiere of a new octet by Zosha di Castri alongside the JACK Quartet at the Banff Centre for Arts and Creativity; to the premiere of Augusta Read Thomas's Helix Spirals, a piece inspired by the Meselson-Stahl DNA replication discovery; to the "Schubert Effect," in collaboration with pianist Shai Wosner at the 92nd Street NY. The Quartet also continues to be a strong supporter of their friend and frequent collaborator Kim Kashkashian's project Music for Food by participating in concerts throughout the United States for the benefit of various food banks and shelters.