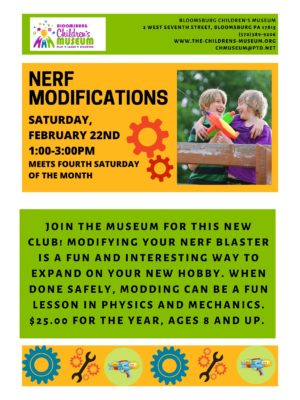 We will tentatively reopen on March 30th. We know this is the right decision for our institution to make at this time. The health and safety of our guests, staff and volunteers is our top priority and we are following the guidance of the Pennsylvania Department of Health.
If you have already purchased tickets or registered for a program, we will be issuing refunds.
Our intention is to reopen on March 30th, but we will continue to monitor the developments around COVID-19 and will remain in contact with health officials to determine an appropriate reopening date. Meanwhile, we are following all recommendations of the World Health Organization, Centers for Disease Control, Pennsylvania Department of Health and government officials.
Join the museum for this new club! Modifying your nerf blaster is a fun and interesting way to expand on your new hobby. When done safely, modding can be a fun lesson in physics and mechanics. Meets fourth Saturday of the month beginning on Saturday, January 25th. $25.00 for the year, ages 8 and up.