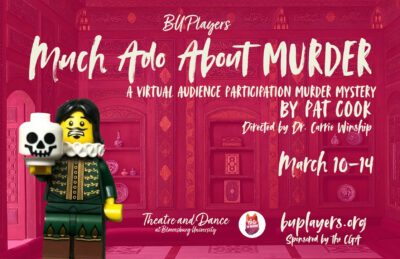 BU Players present
Much Ado About Murder
A Virtual Audience Participation Murder Mystery
by Pat Cook
Directed by Dr. Carrie Winship
Rich but rotten Carlton Larraby is hosting yet another themed dinner party for his family and friends: a Halloween party with everybody dressed as a character from Shakespeare. The macabre surprise at this particular party? Someone's been murdered and it's up to the guests, including the audience, to solve the mystery.
Wednesday, March 10 at 7:30pm
Thursday, March 11 at 7:30pm
Friday, March 12 at 7:30pm
Saturday, March 13 at 7:30pm
Sunday, March 14 at 3:00pm
Free tickets can be reserved at buplayers.org.