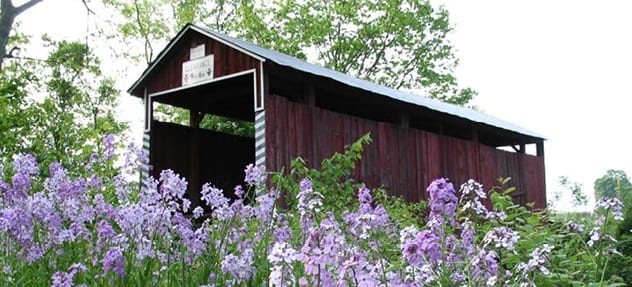 Have you longed to see many of the nineteenth-century covered bridges Columbia County has to offer, but didn't want to travel off the beaten path alone?  If you are looking for a delightful and informative day touring our historic covered bridges, please join the Columbia-Montour Visitors Bureau for its annual Covered Bridge Bus Tour. The tour will begin at 9:00 a.m. and end around 3:30 p.m. back at the Visitors Bureau.
Hop on the bus at the Visitors Bureau office at 121 Papermill Road in Bloomsburg to begin a historical adventure. Guests can unwind as the guided ride meanders through the picturesque Central Pennsylvania countryside to visit 13 of the area's covered bridges.  Symbols of small-town America, these covered bridges coax travelers off the beaten path to explore little streams and forgotten dirt roads. At each stop, there will be opportunities for leisurely exploration and for taking photographs. Enjoy a picnic lunch provided by the Visitors Bureau at one of the only two twin covered bridges in the United States.
The entire outing costs $25 per person. For more information about the Covered Bridge Bus Tour or to reserve your spot on the bus, please call the Visitors Bureau Welcome Center at 570-784-8279. Seats sell out quickly, so do not wait until the last minute to reserve. Buses are not handicapped accessible.  PLEASE NOTE – no reservation money will be refunded for cancellations made after May 1st.