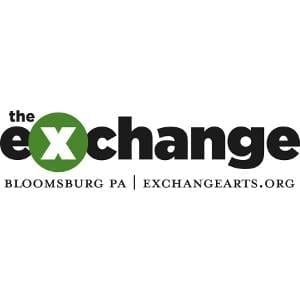 For this year's holiday fundraiser show, The Exchange masks up!
Since 2014, The Exchange has hosted a year-end art exhibition called "Cash & Carry": We gave away wooden panels for artists to make art on, and we sold every piece for the same price.
This year, we will give away plain white cotton face masks for a "Mask & Carry" exhibition. As always, artists can make any sort of artwork on them – painting, drawing, sewing, collaging, sculpting, tie-dyeing, any medium at all. All of the finished pieces will go on display at the Exchange Gallery starting Monday, November 23rd, and the "Mask & Carry" exhibition will run through the 8th of January, 2021.
In this year that the COVID crisis has affected everything that The Exchange does, as it has affected every person reading this, we make a special request of our artists: We ask all of you to do your work on your masks as donations to The Exchange; that way, all of the proceeds will go directly to keeping our lights on and into the programming that brings the arts to all communities throughout our region – the Gallery, the Art Cart, the Listening Room, and more. Your donations in this show will help ensure that we can continue to keep such a low commission, 20%, in all of our other shows. We thank you in advance for your generosity.
Artists may also start from scratch and enter masks of their own design, of any size at all (as long as they fit through the front door) and constructed of any material, substance, or matter. These artists also agree to donate all of the proceeds to The Exchange – which we will appreciate immensely too!
All of the masks in the show will go on view at an e-commerce site so buyers can browse and purchase on the Web; we will have that link out to you when the show opens and sales begin. Your purchase benefits The Exchange and all of our programming. Photos of the masks will also go up on the ArtOfPA.org Instagram page.
Because all of the masks in the show will have become artwork, The Exchange does NOT recommend wearing any of them as protective gear – but one certainly may at a proper physical distance in any situation where one would not need a mask.
The Exchange turned ten years old in 2020, and we had intended to celebrate all year long, with concerts at venues throughout Columbia and Montour Counties as well as our Gallery shows, some of which hearkened back to themes that we had solicited work on in the past – thus our third "Nest" and "Cover of a Cover" exhibitions. The first six annual "Cash & Carry" shows have attracted as many as 521 pieces in each, with the artists representing a broad and deep cross section of the people in our community, from university art professors to preschool children and everyone in between. We look forward to just as diverse a group of artists in "Mask & Carry".