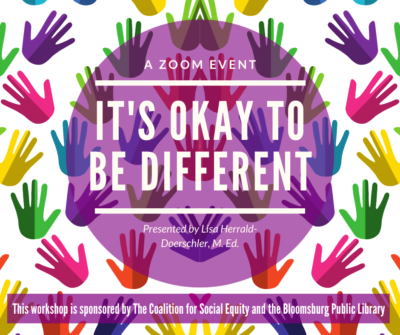 This free workshop, presented by Lisa Herrald-Doerschler, M. Ed.,  gives parents and guardians of young children an opportunity to discuss ways in which they can help their young children navigate differences and diversity among people.  We will focus on using children's literature as a tool to support these discussions, reflect on our own experiences and attitudes with difference, and learn some tips to help young children positively interact with diversity within our community.  Each family will receive a free book, too.
This is a Zoom Event and registration in advance is required.  The event is limited to 15 participants.  You will receive the Zoom link after you register.
The workshop is sponsored by The Coalition for Social Equity and The Bloomsburg Public Library.