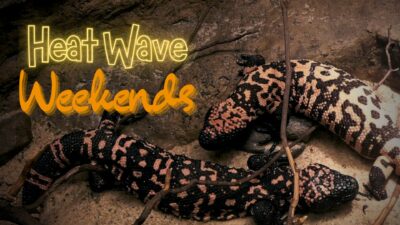 𝙅𝙤𝙞𝙣 𝙪𝙨 𝙩𝙝𝙞𝙨 𝙬𝙞𝙣𝙩𝙚𝙧 𝙛𝙤𝙧 𝙃𝙚𝙖𝙩 𝙒𝙖𝙫𝙚 𝙒𝙚𝙚𝙠𝙚𝙣𝙙𝙨!
Visit the zoo on these select weekends to enjoy specialty shows featuring animals from warm climates.
𝗙𝗲𝗮𝘁𝘂𝗿𝗲𝗱 𝗦𝗵𝗼𝘄𝘀
𝘛𝘳𝘰𝘱𝘪𝘤𝘢𝘭 𝘙𝘢𝘪𝘯𝘧𝘰𝘳𝘦𝘴𝘵
Nowhere on earth can a greater diversity of life forms be found than in the tropical rainforests that straddle the equator, and this program is a celebration of that. Through the use of an assortment of live animals representing habitats from the canopy to the forest floor, audiences are introduced to the excitement of jungle life.
𝘋𝘦𝘴𝘦𝘳𝘵
In contrast to the rainforest, there is very little rainfall in the desert—less than 10 inches per year! Because of this, desert-dwellers have adapted to some of the harshest and driest of conditions. This show features exciting animals like a scorpion, star tortoise, various lizards, and snakes – including a western diamondback rattlesnake!