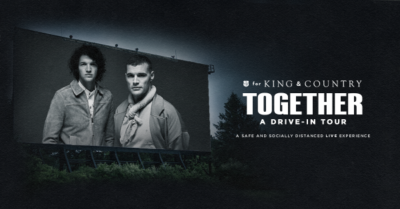 Bloomsburg Fair is set to host a drive-in concert experience on Sunday, October 4, 2020 featuring Contemporary Christian duo For King & Country called "Together – A Live Drive-In Tour". The drive-in tour is a live performance to be held in the Bloomsburg Fair parking lot. Gates will open at 4:30pm and the concert will begin at 6:30pm. Tickets start at $125 per car with 4 passengers. A limited number of VIP Early Entry tickets will also be available. Tickets go on sale to the public on September 1st at www.PlatformTickets.com.
Guests will park their vehicle in an oversized parking space which will allow for social distancing. The event will follow all CDC guidelines. Due to city and state COVID-19 restrictions, all guests must remain in their vehicle during the concert.
For King & Country is a four-time GRAMMY® award-winning Australian duo comprised of brothers Joel and Luke Smallbone. In 2019, For King & Country collaborated with renowned entertainer Dolly Parton to release a brand-new version of the duo's 11-week #1 hit "God Only Know". In 2020, the track won a GRAMMY® award in the Contemporary Christian Music Performance/Song category. They've also had songs featured on the Emmy's, Super Bowl, Sunday Night Football and other high-profile events. National performances include The Tonight Show, Today Show, Jimmy Kimmel Live!, The View, CMA Awards, and CMA Country Christmas.
The For King & Country concert is a great way to support the Bloomsburg Fair and have a fun night out. The Bloomsburg Fair itself looks forward to coming back stronger than ever in 2021.
For more information on the For King & Country drive-in concert or to purchase tickets, please visit www.forkingandcountry.com or www.PlatformTickets.com.