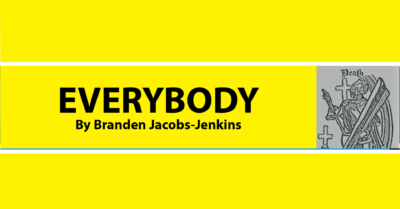 BU Players present
Everybody
By Branden Jacobs-Jenkins
Directed by David A. Miller
February 26 through March 1, 2020
Alvina Krause Theatre, Downtown Bloomsburg, PA
Performances are Wednesday through Saturday at 7:30pm and Sunday at 3:00pm.
Tickets are Free for BU Students/CGA Activities Card Holders, $6 for adults, $4 dollars for students/seniors.
Tickets for all BU Players productions must be purchased in person at the box office or over the phone at the Arts in Bloom Box Office. Contact information and hours for the Arts in Bloom Box Office can be found at https://bloomu.edu/arts-in-bloom. Tickets also may be purchased starting an hour before curtain time at the Alvina Krause Theatre.
About the show: Travel with Everybody (chosen from among the cast by lottery at each performance) as they journey through life's greatest mystery—the meaning of living. This modern take on the fifteenth-century morality play Everyman which features characters such as Love, Death, and Friendship, was a finalist for the prestigious Pulitzer Prize for Drama in 2018.
"Was that a dream or was that a vision? Were you even asleep? Or are you really dying? Is this how Death comes to you? In a dream?"