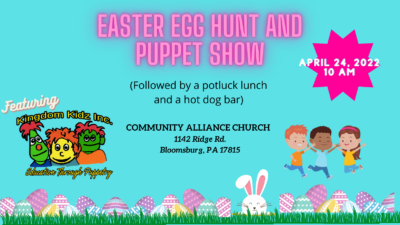 Are your kids still waiting for the Easter Bunny to come? Come join us on April 24th as we have a time of fun, food, and fellowship. The Community Alliance Church is welcoming in the great people at Kingdom Kidz Inc. to bring us a fun, educational and entertaining puppet show. Following the show we will gather up the kids and get ready for an exciting egg hunt. Feel free to bring your own bag or basket. We will have some for your child to use if they need one. The fun doesn't stop there. After all that running around you are going to be hungry so please stay and join us for a meal and some fellowship. To make sure everyone has the best possible time please let us know that you will be joining us by RSVP through either Facebook or the website (www.communityalliance.church). We can't wait to see you there!
Community Alliance Church
1142 Ridge Rd.
Bloomsburg, PA
*To support the work of Kingdom Kidz Inc we will provide an opportunity to give a love offering.