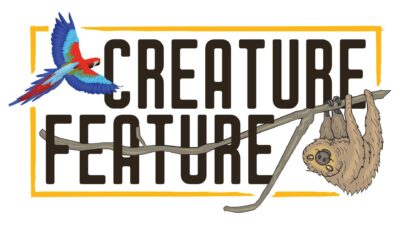 Two-toed sloths are found in Central and South America. They are named for the two toes on their front feet (even though they have three toes on their back feet). Sloths spend most of their lives hanging upside down in the treetops and seldom move. Because the rainforest is so hot and humid, sloths will begin growing small plants and moss in their hair, giving them a green appearance. This also helps to camouflage them within their surroundings. Sloths eat fruit, leaves, and flowers and have the slowest digestive system—it takes them up to 1 month to digest a meal! Don't miss this lazy yet lovable species on March 13!
Ticket Prices
$16 for ages 12 and up
$14 for ages 3 through 11
FREE for children 2 and under
*Additional Information*
• General admission is included with this event, so before and after you check out the featured creature, be sure to take in all of our exhibits and live shows!
• Due to COVID-19 safety precautions, tickets to this event are limited and MUST be purchased in advance. We have also implemented specific time slots for visits in order to limit the number of people in the zoo at any given time.
• Prepurchased tickets are non-refundable. In the event of cancellation due to inclement weather, tickets can be used at a later date.
• Masks are required to enter the zoo. We also ask that you practice social distancing at all times.
We are doing everything we can to keep people safe while still offering an enjoyable experience. We appreciate your cooperation and understanding during this difficult time. Please contact us if you have any questions.