Columbia County Birding Spotlight
March 17

-

March 20

FREE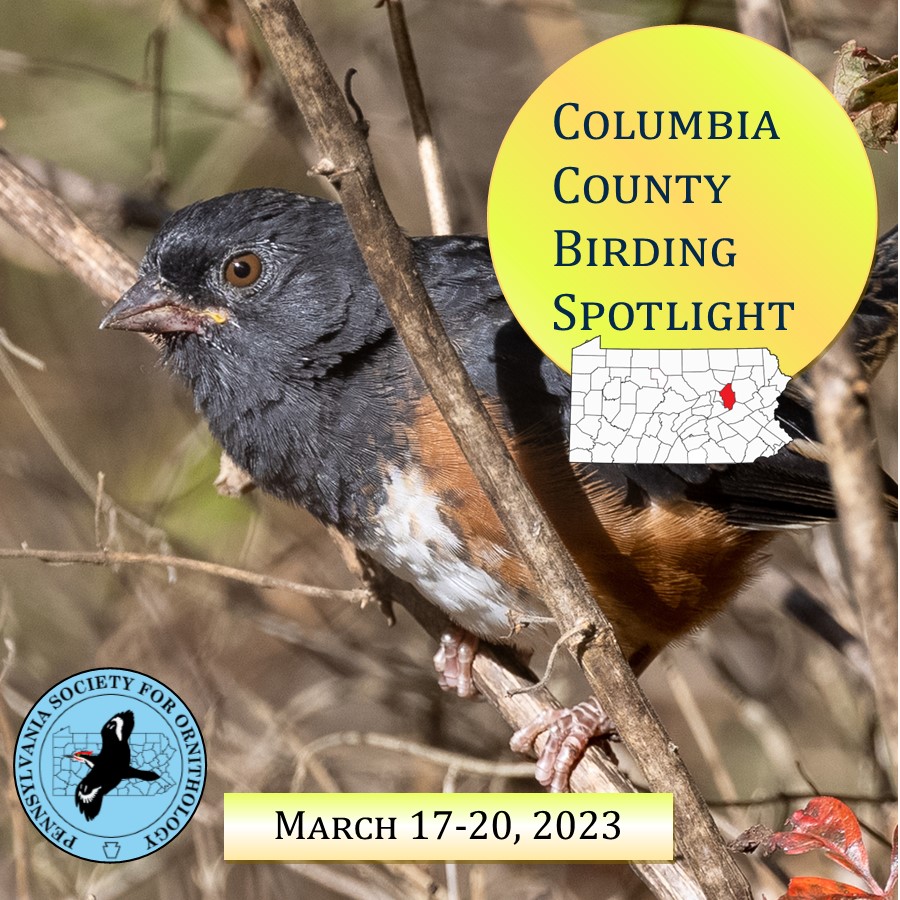 Our next county spotlight takes us to Columbia County, which is another under-birded spot in our state. You can join our group walks or do your own thing. Anyone is able to help by just birding in the county and sharing all of their eBird checklists with PSO Birding Data.
Group Walks Planned:
Walk #1:
Location: Briar Creek Lake
Date: Friday 3/17
Time: 8 am
Meeting point: Lake Road – west end of lake – 41.067263, -76.291316
Leader: Karol Pasquinelli
Description: Briar Creek Lake is one of the best waterfowl locations in the county. This walk will begin with a scan of the lake near the gravel parking area and then a walk around the south edge of the lake to look for other species of interest. Terrain is flat but it can be wet and muddy so be prepared. Depending on conditions, the trip may include driving to the other paved parking lot at the north side of the lake and time permitting the leader might visit other nearby sites to look for more unusual species.
Walk #2:
Location: Town of Bloomsburg/Fort McClure Blvd
Date: Saturday 3/18
Time: 8 am
Meeting point: Streeter Field Parking Lot, 40.980844, -76.467915
Leader: Andy Keister
Description: We'll begin near the mouth of Fort McClure Boulevard to look for interesting waterfowl. Typically, this area holds more uncommon species including Common Goldeneye. We'll initially walk a paved road before returning to our cars and driving to Bloomsburg Town Park where we'll search the river and adjacent areas for waterfowl, Peregrine Falcons, and Merlin which are known to frequent the area. To finish, we'll drive to the Town Boat Launch to scan a new area of river. Along the way, we might also stop at Sands Street to look for field birds depending on conditions.
Walk #3:
Location: State Gamelands 226
Date: Sunday 3/19
Time: 8 am
Meeting point: Int. of Spruce Run and Slate Road, 41.115681, -76.559861
Leader: Andy Keister
Description: We'll initially meet at a gravel parking lot to search for field birds and sparrows. We'll limit our walking to public roads initially. After this short stop, we'll drive from spot to spot within the gamelands to search various habitats for good birds while taking short walks. The wooded areas have produced Barred Owls and Ruffed Grouse so maybe we'll get lucky. The habitat is really varied so we'll expect a good assortment of birds.