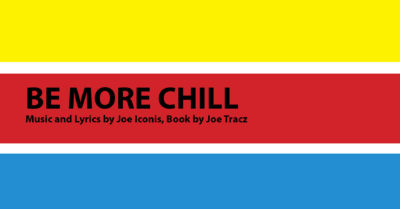 Be More Chill
Music and Lyrics by Joe Iconis, Book by Joe Tracz, Based on the novel by Ned Vizzini
October 31 through November 3, 2019
Alvina Krause Theatre, Downtown Bloomsburg, PA
Performances are Thursday through Saturday at 7:30pm and Sunday at 3:00pm.
Tickets are Free for BU Students/CGA Activities Card Holders, $12 for adults, $8 dollars for students/seniors.
Tickets for all BU Players productions must be purchased in person at the box office or over the phone at the Arts in Bloom Box Office. Contact information and hours for the Arts in Bloom Box Office can be found at https://bloomu.edu/arts-in-bloom. Tickets also may be purchased starting an hour before curtain time at the Alvina Krause Theatre.
About the show: Jeremy Heere is just an average teenager. That is, until he finds out about "The Squip" – a tiny supercomputer that promises to bring him everything he desires most: a date with Christine, an invite to the raddest party of the year and a chance to survive life in his suburban New Jersey high school. But is being the most popular guy in school worth the risk?
"Everything about you is going to be
Cool
And powerful
And popular
Incredible
And you will
Be More Chill."