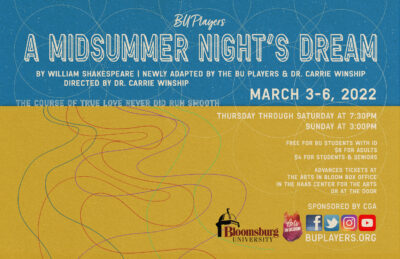 A Midsummer Night's Dream
By William Shakespeare | Newly adapted by the BU Players and BU Professor Dr. Carrie Winship | Directed by BU Professor Dr. Carrie Winship
March 3 to 6, 2022
Thursday through Saturday at 7:30pm
Sunday at 3:00pm
Alvina Krause Theatre, 226 Center Street, Downtown Bloomsburg
About the play: Love triangles, love quadrangles, couples and an ass on a Bottom. Magic and mischief in the woods and an imminent wedding at the palace…
Tickets required | Free for BU Students with ID | $6 for Adults | $4 for Students & Seniors.
Advanced tickets at the Arts in Bloom Box Office in the Haas Center for the Arts on the BU Campus starting in January 2022, Monday through Friday, 11:00am to 4:00pm. Out-of-town guests may call the Box Office at 570-389-4409 to arrange advanced ticket purchases over the phone. Any remaining tickets will be available at the Alvina Krause Theatre 1 hour before each performance.
Audience masking is currently anticipated.