8th Annual Rube Goldberg Challenge®
April 1 @ 9:00 am

-

1:00 pm

See event details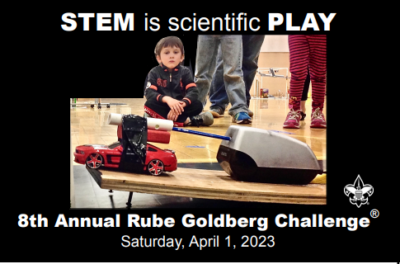 Do you know any kids in 1st through 12th grade who are would-be inventors? If you do, sign them up now for the 8th Annual Rube Goldberg Challenge® sponsored by the Columbia-Montour Council BSA.
Kids can show off their funny engineering skills and have a chance to win prizes by participating in the Challenge® on Saturday, April 1, at the Central Columbia Elementary School gym in Bloomsburg. All they must do is design and build a ridiculously complicated contraption to perform a single, simple task of their choice. They can discover a love for Science, Technology, Engineering and Math (STEM) and learn some principles of physics all while having fun. The competition is open to all students in 1st through 12th grade. They do not have to be scouts to participate.
Rube Goldberg was an American Pulitzer Prize-winning cartoonist, sculptor, author, engineer and inventor who lived from 1883-1970. He drew funny cartoons illustrating elaborate ways to achieve simple tasks. So great was his cultural impact that his name became an adjective in the dictionary! With humor, his legacy continues to inspire innovation by encouraging young minds to think in unconventional ways.
Have the kids form a team of up to four members and register now. Registration deadline is Friday, March 10, or March 17 with a late fee. The registration fee is $75 per team. There will be cash prizes for all age groups of kids, free food for participants and a Rube Goldberg Collector's Patch for every student who participates.
The public is invited to attend the event for free on Saturday, April 1, from 9 a.m. to 1 p.m. at the Central Columbia Elementary School gym to see the amazing inventions, view the competition and cheer for their favorites.
To register or find out more about the event, go to https://tinyurl.com/8thRubeGoldbergChallenge.
If you don't have a team to join, call Columbia-Montour Council BSA at 570-784-2700 and ask about STEM Exploring Club 42.