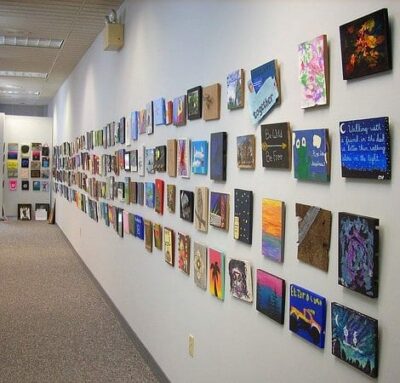 Marking the eighth annual show, The Exchange gave away hundreds of  8″ x 8″ medium-density fiberboard (MDF) panels.  Artists of all kinds painted, drew, glued photographs and collages, and so much more on them – anything the artist could imagine!
Every piece will sell for $25, with the artist receiving $20 and the rest going to support the Exchange Gallery's ongoing operations; sales will begin at 6 p.m. on Friday, December 3rd, during Downtown Bloomsburg's holiday event: All attendees wishing to buy will receive numbers; when sales start, the person with #1 may choose one piece from the walls, and if she wants a second piece, she must get another number.  So on with #2, #3, etc.  This prevents any one buyer from getting "all of the good stuff", and it makes for a lot of fun.
Oh, and one can pay with cash, check, or charge card; we just like the name "Cash & Carry" — and it does indicate that, unlike our other shows, one may take one's artwork home right then and there, rather than waiting until the end of the show.  They make great holiday gifts!