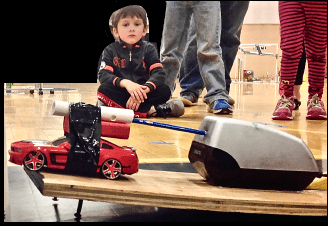 Friday, March 11, 2022 (or late fee by March 18) for free public event on Saturday, April 2, 2022 (event is free for public, but participants pay a registration fee when they preregister).
Cost: $75/team of 1-4 members (includes CASH prizes for ALL age groups of kids in 1st-12th grades, FREE FOOD for participants, and Rube Goldberg Collector's Patch). Actual event is free for public attendees on April 2, 2022.
Are your kids overlooked for STEM events (Science Technology Engineering and Math)? Kids who grow up using their hands and solving real-life problems are fully equipped to compete with their academic peers. Give them a chance to shine at our Challenge® and to discover their love of STEM, while learning the physics they already know.
Mission: Design and build a ridiculously complicated contraption to perform a single, simple task of your own choice. This half-day competitive STEM event integrates HUMOR, PLAY and lots of SCIENTIFIC PERSISTENCE to teach HANDS-ON PHYSICS principles of 'simple machines'. Our young leaders of tomorrow need to imagine the world in innovative ways today!
Teams forming NOW to PREREGISTER for this uniquely humorous STEM competition at the Central Columbia Elementary School Gym in Bloomsburg on Saturday, April 2, 2022. Give your kids the Rube Goldberg Challenge®!