30th International Harvester National Red Power Round Up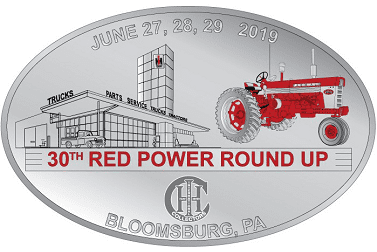 The National Red Power Round Up has not been in the east since 2007. As International Harvester enthusiasts wait for its arrival, the members of Chapter 17 of the International Harvester Collectors are working diligently to prepare for this upcoming event. The show will be held at the beautiful Bloomsburg Fairgrounds in Bloomsburg, PA on June 27, 28 and 29, 2019. Gates open at 7:00 a.m. each day.
Our features will be the 60 series IH tractors (140 thru 660) and the ever-popular International Scout. We expect over 1,000 tractors and hopefully 400 IH Scouts from all over the United States and Canada. This show welcomes anything from IH McCormick, McCormick Deering, or any of Harvester's many companies. They can be restored to their finest, in their work clothes, or anyplace in between.
There will be a lot of things to do at the show, including music at the band shell all 3 days and families will enjoy a kiddie play area and children's pedal tractor pull at 10 a.m. on Saturday. All attendees will be able to learn some very interesting Harvester history from some of the many speakers we have lined up, plus crafts illustrating how to make an IH barn quit, vendors that will be selling IH parts and memorabilia, and daily IH equipment parades on the grounds. A special area called the "Trading Post" will be for the public to consign unwanted IH items large or small. There will be a small commission for this service. Golf carts will be available to rent, since the Fairground is so large. If you would like reserve one, call 1-888-853-7746.
We will have buses running to Millville all 3 days so that our guests can see our world famous IH prototype dealership building. When you walk into this amazingly well-keep 1947 structure, you'll feel like you've rediscovered the 1950s.  There is a charge of $5.00 for this 8-mile ride which covers our cost of the buses. Tour guides will be on hand to show you this facility and answer any questions you might have. This building was purchased by International Harvester Collectors, Chapter 17 in 2010 from the original owners, the Bartlow family. Over the past decade, members of the Club have worked tirelessly to turn this into an IH Museum. Frank Bartlow Sr. built this building in 1947, from which he ran his IH business called Frank Bartow Farm Equipment. The business closed in 1972 and from then on his son and grandson ran a small trucking company for a few years, and finally it was used for storage. Frank Jr. kept his Harvester collection there until he had an auction and then sold the building to us.
I hope you will plan to take a day (or several days) to come to Bloomsburg and enjoy this show. I know when you walk in the gate and see a sea of red, you will understand why it's called THE RED POWER ROUND UP.