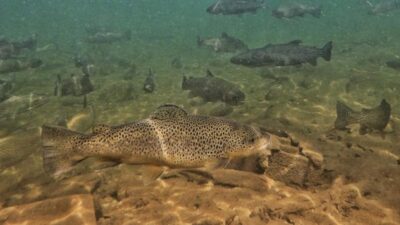 Youth anglers must obtain a Mentored Youth Permit OR a Voluntary Youth Fishing License from the Commission and be accompanied by an licensed adult angler to participate.
Anglers 16 years of age or older (adult anglers) must possess a valid Pennsylvania Fishing License and a current Trout/Salmon Permit, and be accompanied by a youth (less than 16 years of age) who has obtained a Mentored Youth Fishing Permit OR a Voluntary Youth Fishing License from the Commission.
Only youth anglers with a Voluntary Youth Fishing License OR Mentored Youth Permit may possess a total of two trout (combined species) with a minimum length of 7 inches. Adult anglers are prohibited from possessing trout.
All other Commonwealth Inland Water regulations apply. Special regulation areas are not included in the program. It is unlawful to fish in waters designated as part of the Mentored Youth Fishing Day Program except when participating in the program.
The PFBC is providing this opportunity for youth to fish with their mentors and it is not intended as a chance for mentors to get an early start to trout season. Mentors fishing with youth on these dates should follow these guidelines:
Youth should be capable of fishing on their own, with limited assistance from mentor.
Mentor should be fishing within a reasonable distance of actively fishing youth.
The PFBC is discouraging youth organizations from using this as an opportunity to get a large group of youth fishing, with minimal adult supervision.