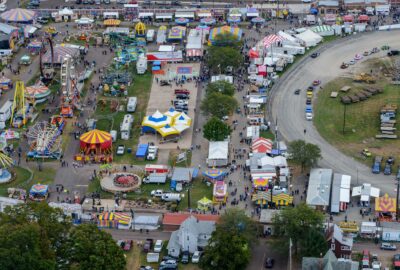 Originally an agricultural fair, held in 1855, the Bloomsburg Fair was created to exhibit agricultural products, especially fruits and grains, of Columbia County farmers.
Over the years, the fairgrounds have expanded by almost 227 acres since 1885; many additional buildings and improvements have been constructed: animal pens, stables, grandstands, offices, and more, so that today the extensive fairgrounds house a wide variety of facilities. Although it still emphasizes its agricultural heritage, the fair has expanded to include something for every taste. Its primary objective continues to be a fair with a country, rural atmosphere. Fair week officially begins the third Monday after Labor Day, and over 500,000 people attend yearly.
Monday, September 26: Senior's Day (Sponsored by the PA Lottery) (65 & older admitted free)
Tuesday, September 27: Student Day (Ages 13 – 18 admitted free) Also, $1 of each $8 general admission purchase is donated to the Ronald McDonald House of Danville.
Wednesday, September 28: Military Day (Sponsored by the Kohrs Orangeade) (Free admission to all military past and present with valid ID)
Friday, September 30: Student Day (Ages 13 – 18 admitted free)